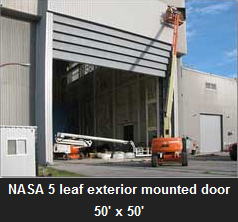 Vertical Lift & Dock Doors
Construction
The centerpiece of the IDI product line. Vertical lift products are the doors of choice by automotive and heavy industry. Available with single or multi-leaf configurations, these doors are clad with heavy gauge face sheets and fabricated with a wide range of options.
Counterweighted, structural steel framing
14-gauge exterior/16-gauge interior steel cladding
Meets all wind loading requirements
3" minimum thickness Maintenance
Maintenance
Maintenance free hardware with factory sealed ball bearing rollers
Shop-primed exposed and concealed surfaces
Delivers long service life with minimum maintenance
Operation
Safety sensor edge with series circuit reliability
Auxiliary hand-chain operation
Includes electric motors, brakes, enclosed gearboxes, and limit switches
Applications
Interior or exterier mounted
Automotive plants
Aerospace
Steel mills and mining operations
Warehouses
Test cells, ovens, soak rooms and wind tunnel applications
Assembly and manufacturing areas
Hangar doors
Railroad entries
Options
Exterior-mounted - complete with weatherhood
High speed operation (up to 3.5' per second)
Special Windloading/hurricane installations
Breakaway bottom section with flashing strobe lights
Corrosion resistant construction (galvanized steel or stainless steel)
Blast doors (100 psf and greater)
Acoustical doors (up to STC 55)
Fire rated assemblies for units requiring up to three (3) hour ratings (UL approved)
Programmable logic controls
Pull cord controls
Radio controls
Air-Lock or vestibule provisions
Customized application - please consult our sales department with your requirements
Vision lites or multiple windows
Thermal insulation
Integral pedestrian doors
DOOR CLEARANCE REQUIREMENTS (TYPICAL)
Door Type
Vertical Clearance
Horizontal Clearance
from Jamb Interior
1 Leaf Vertical Lift
2 x opening + 16"
9"
2 Leaf Vertical Lift
1-1/2 x opening + 16"
13"
3 Leaf Vertical Lift
1-1/3 x opening + 16"
20"
4 Leaf Vertical Lift
1-1/4 x opening + 16"
27"
* - Consult IDI Engineering for your project's specific requirements.
+ Enlarge images by clicking